Nebula II and The Volt
After an explosive start on Reinforced Records with a UK Gallup No. 49 with "The Seance" we have spent the last few years building an impressive catalogue of releases (over 100). By starting our own record company The Volt we have released singles under a variety of assumed names Kodiak, Arcana, Spy, Coca (see discography). We have also appeared on numerous CD compilations.

Our Latest Single - on Industrial Strength Techno

We also like to appear live and our stage show combines live music with DJing, VJing and sometimes even lighting to take over the whole room and bring you our kind of techno experience.
Scrap Book
We now have various press cuttings and flyers scanned in. here
Downloads
These files are all real audio files of full length techno tracks. You'll need a Real Audio Player if you've not got one.
Fontayne - Ade Fenton (Fusion) visits the studios and we make this together.
Squadron
Deeper
Dropsy
Promo Videos
There are now three Nebula 2 promo videos. Bonsai Paradise, Hard Corps and underload.
Bonsai Paradise
Click for enlargement

Bonsai Paradise is an ambient tune and was the first Nebula 2 video to appear on tv since we became independent. It was shown on MTV Europe's Dance Party Zone on Friday 18th April 1997 along with Hard Corps. Bonsai Paradise is a nature based piece with water as a theme.


ding.dell.jpg - 150k

anenome.jpg - 278k

butterfly.jpg - 50k

meosis.jpg - 81.5k
Hard Corps
Hard Corps is a bit of hard techno with a video to match.
Now to feature on vinyl from Industrial Strength Techno so it's got it's own page.
Hear it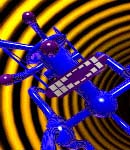 underload

At the end of making the X-Mix video Tony took some of the experimental pieces Matt had been making and edited them together to make a full piece. Each video clip has it's own section of music so a change to the visual changes the audio and vice versa.